Organizing my thoughts, and pictures on this trip is proving to be a daunting task. So I decided to break it down a bit into categories that were more manageable.
This first post is… Food.
While on vacation we ate at random places. Mostly places we cannot eat here at home. We avoided McDonalds, which we can get here and Taco Bell and so on.
This did not apply the first couple of days. On Tuesday evening we ate at DQ in CrossView TX. It was Cross something and not Plains.
The next morning we had breakfast sandwiches with Sue Ellen. They were good, and now I buy them to make life easier here!

That afternoon we crossed over into Louisiana and saw a What-a-burger. I got a chuckle out of the bag telling those in Louisiana not to mess with TX.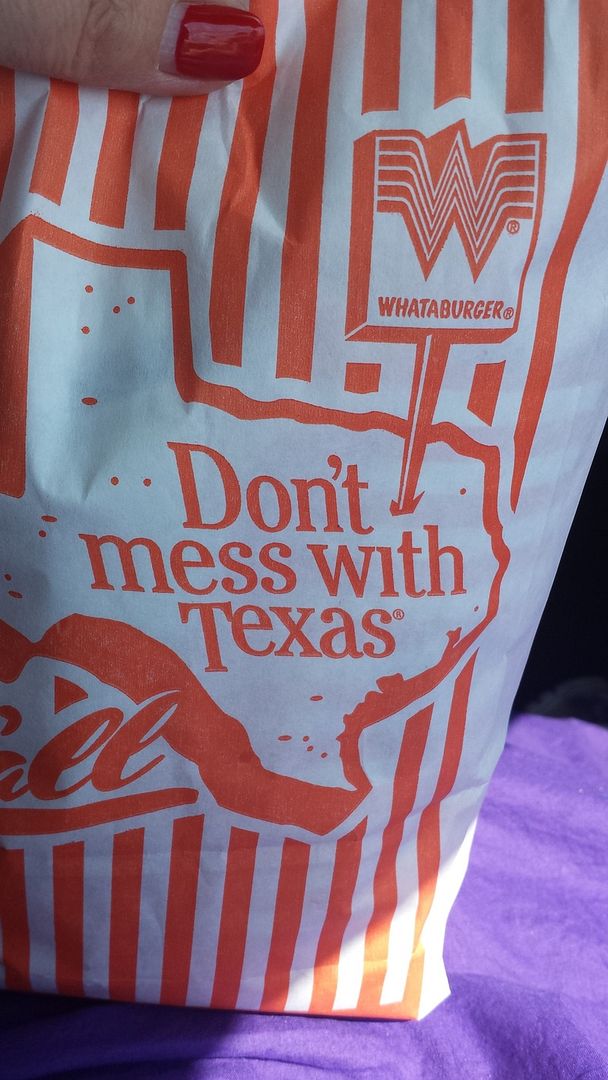 The night we arrived in Gadsden, we were too tired to eat. I went right to sleep! The next morning was our first experience with …Waffle House! It was awesome. Plus, folks outside of TX understand what SWEET TEA really is!
We ate at Waffle house at least 3 breakfasts on our trip. I wish we had one locally!


The next night found me heat sick. We made a point of checking into the hotel early so we could shower and go get a real dinner. Only we didn't. I ended up crashing until about 9pm. MJ ordered himself a pizza and I slept.
When I woke up he wanted dessert. I was a little hungry so we went out. We found… a Frisch's Big Boy. We had not seen a Big Boy since we left California, 20+ years ago. All I could think of was hot… fudge… cake… This was a staple item when we were dating. We and our friends would have late night Bible study and then hit Bob's Big Boy for burgers and hot fudge cake. I did get a chicken salad which was ok but the Hot… Fudge… Cake… was awesome!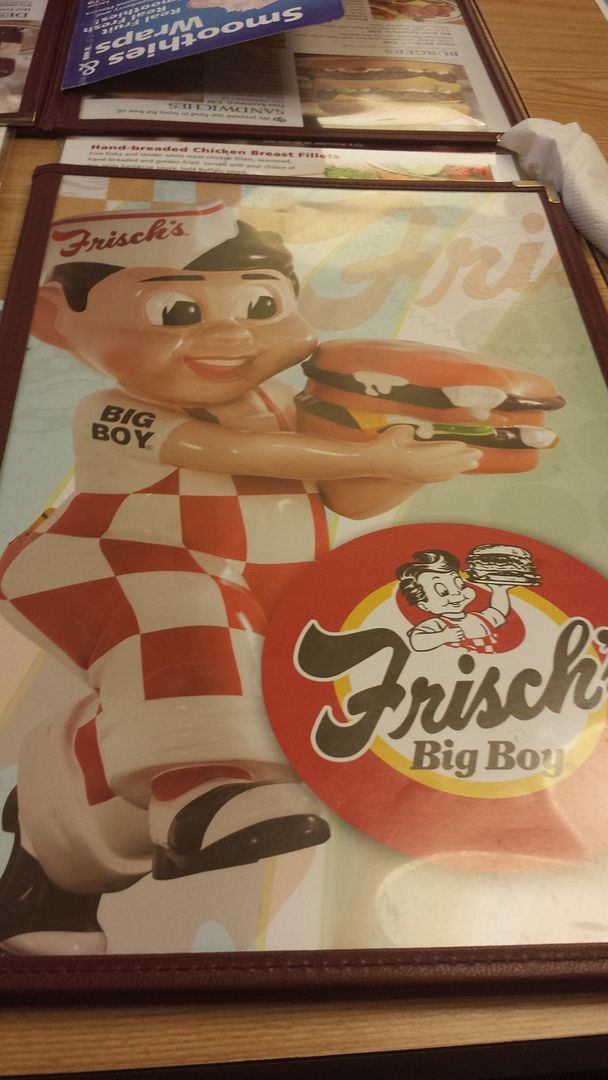 We decided the next morning to get on the road before we ate. We left the motel about 7 and ended up not stopping until almost noon. We found a little place called The Village Restaurant. We ordered breakfast food and it was fantastic. Real shredded potatoes, not those frozen dehydrated things. Real ham (MJ had homemade sausage) and scrambled eggs. Biscuits with the best sausage gravy we have ever had.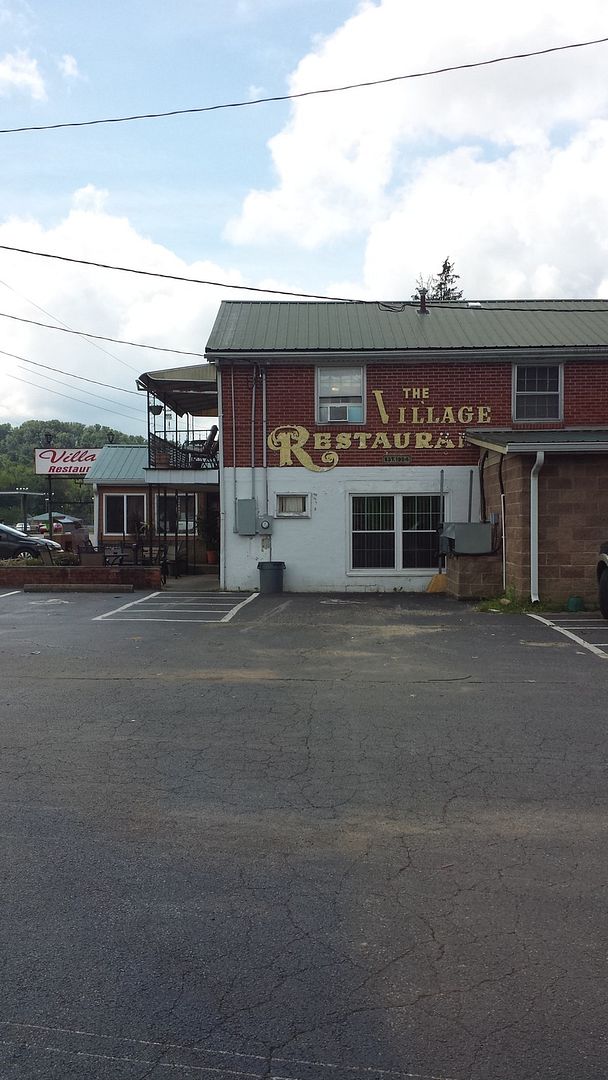 In OHIO I found… White Castle! At least I think this was Ohio. The trouble with road trips is, I get confused where I am and when! Oh how I have missed these since leaving home in Missouri 33 years ago! The frozen ones just do not do them justice!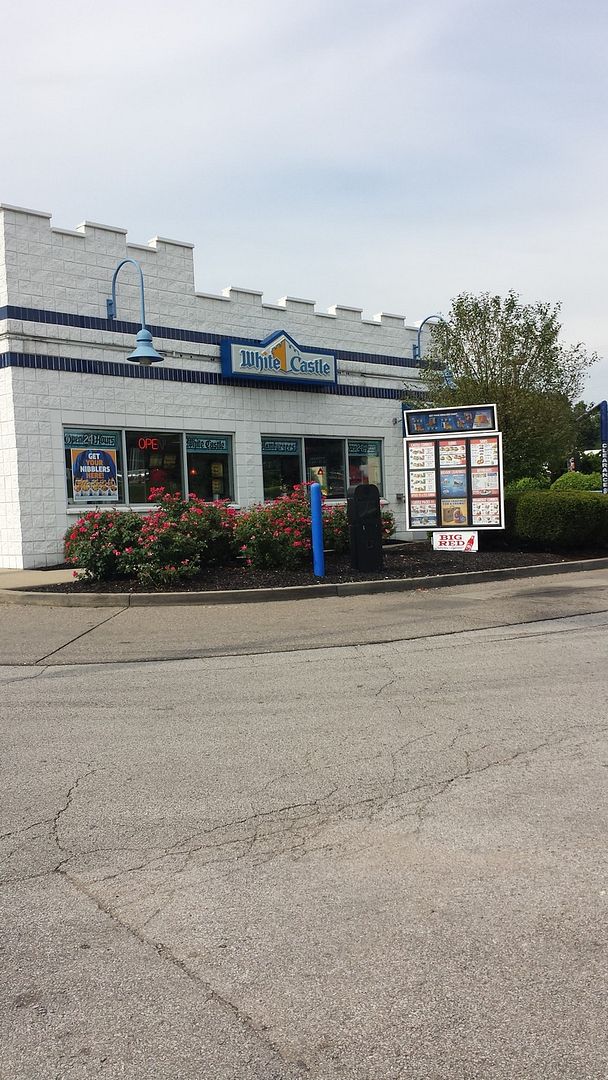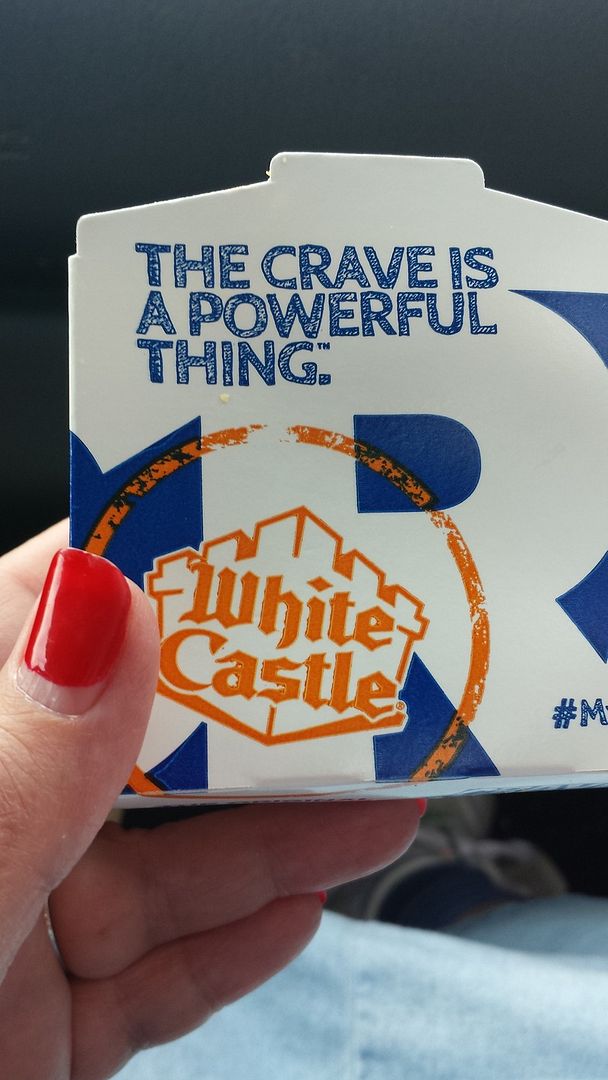 I may not remember all we had or where, but I do remember the night we arrived in Chattanooga TN.
We decided to have a really nice dinner. We dressed up and found a place in the book that said family owned since sometime in the 50s it was set in an old house and offered family fare. We went.
Oh… My… Goodness. It was quiet and elegant and at the same time cozy and friendly. It was called Mount Vernon Restaurant. The waitress was nice, the food was awesome.

The next night found us in Nashville. My brother and sister in law live there and they took us for dinner and a night time tour of downtown. She introduced me to a neat word too… gentrified. Never heard it used before but I like it.
They took us to a German Restaurant called Gerst Haus. I didn't get a picture of the place, but it has a web site,/.
I did get pictures of our dining companions though!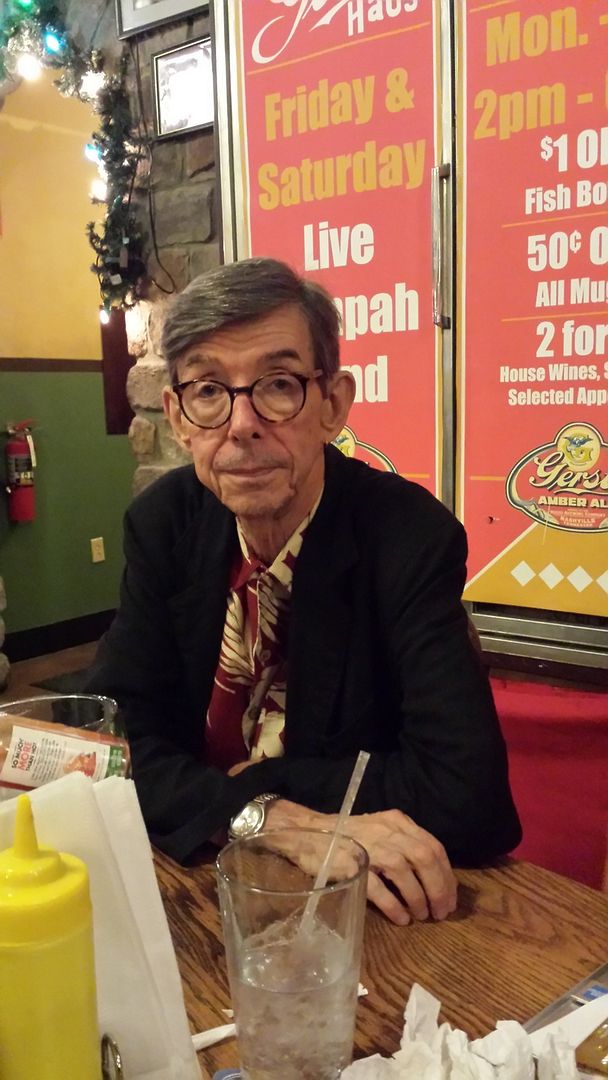 Dave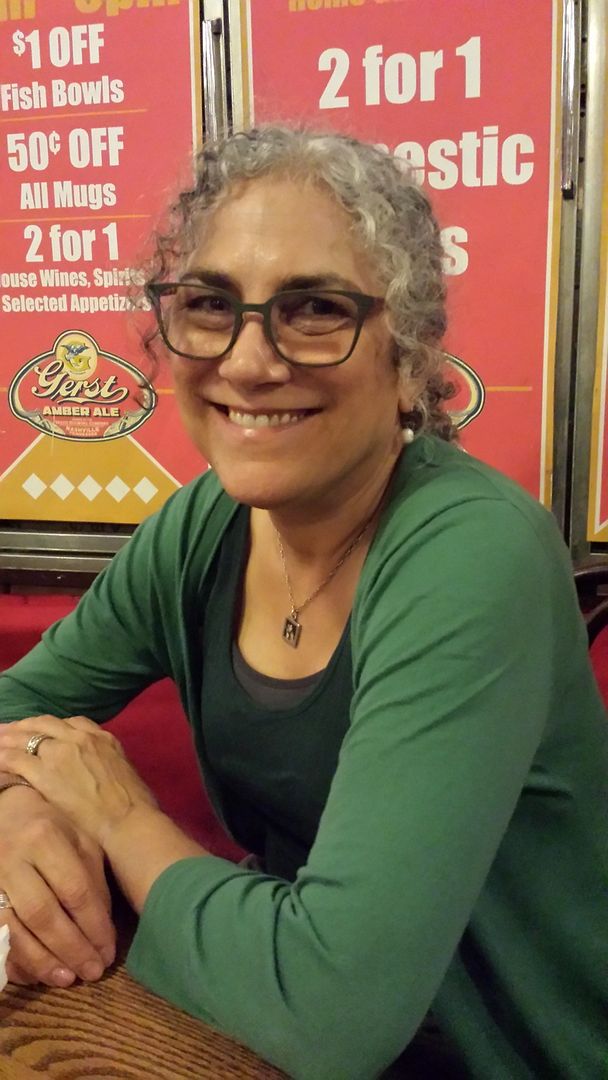 Adie
When we left Nashville we headed for Houston. I don't remember what we ate, though really it was mostly munchies in the car.
In Houston we ate lunches out at various places. I remember one, Tookie's Burgers. They had a line showing where the water level was during Hurricane Ike in 2008. Awesome chicken strips!

When we went to Galvestion we ate at Willie G's. It was kind of a fancy place, like Mount Vernon but without the cozy feeling. The view out of the windows though was amazing. The food here was just ok. Not what I expected from a place with a view and ambience like that! (I ordered steak and shrimp. The steak was fine the shrimp was dried out and hard.)

Lights inside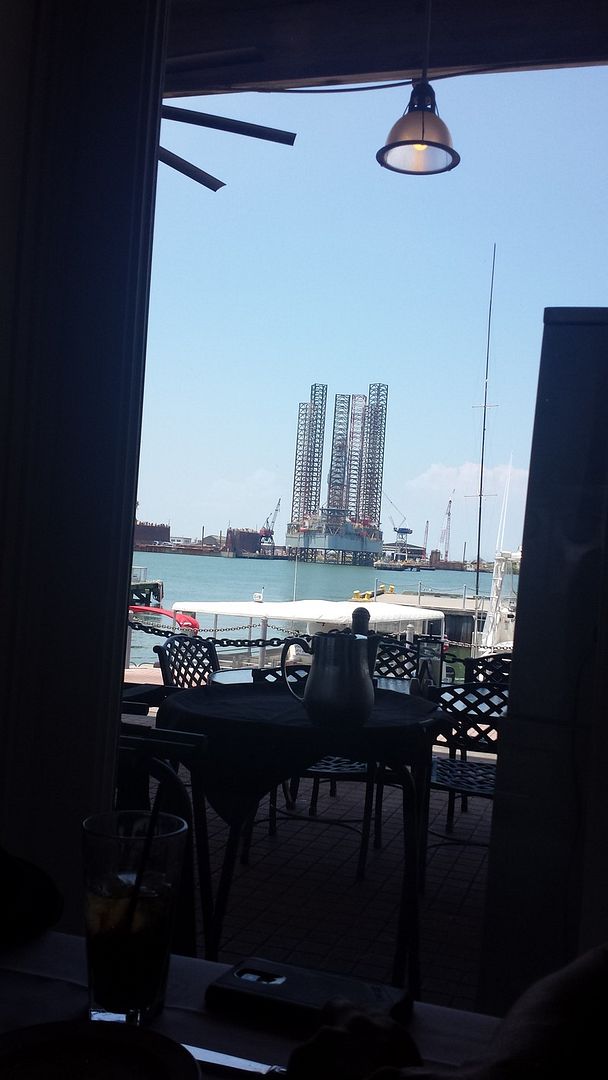 An oil rig in the process of being built. You can see a party boat pulled up to the dock. What you can't see is a boat that had pulled in to the right side. They had pulled in and backed up about 4 times and were working on a 5th when the party boat blocked them in. The people in the small boat eventually came in to Willie G's to eat.
Our last day in Houston we had lunch at a Chinese place they had never tried before. Everyone enjoyed their dinner but me. My sweet and sour combo platter was totally over cooked, all but the chicken which was good. The sauce was the typical bottled red sauce, not the made from scratch reddish brown sauce.
Susie my sister in law cooked breakfast and dinner every day! She is a very good cook.
We met Chris in New Braunfels to bring him home. We stopped at Chipotle for lunch. I did not like mine. The rice and beans were great but the meat was very fatty and chewy. Which is very unusual for them. I have before this never had a bad meal there.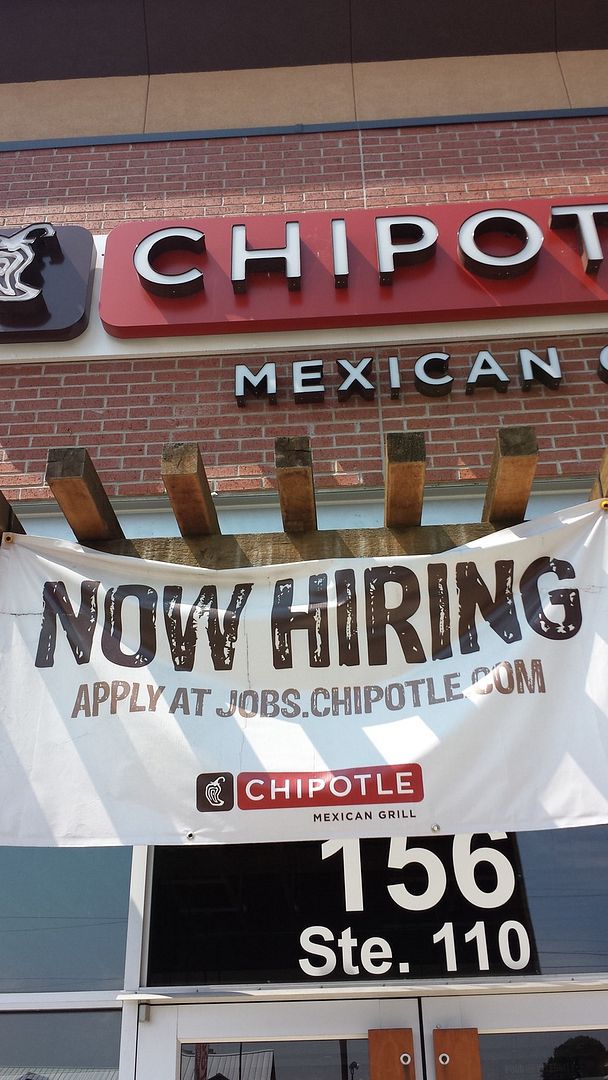 Two things I wanted to eat on the journey I never got to. One, was roasted corn on the cob. The other was funnel cake. I have heard of but never tried either of these. Every time we saw a groups of sellers with a trailer for it, the line to park was huge. I mean trailing down the highway huge. The trailer didn't have a line in most cases but getting into the area was impossible. So we drove on saying we would stop at the next one… we ran out of next ones…
It is good to be home! Though I do admit it was nice not to have to ask if the water was filtered outside of TX. Some spots in TX have drinkable water, San Angelo is not one of them!
Hugs y'all!